[ad_1]


I've been reluctant to say this up until now, but Newcastle are nearly there.
A top-four Premier League finish is in sight, and I am feeling confident they will do it, and get across the line.
It's not done yet, but they are not far away from achieving something that I don't think anyone thought would happen before a ball was kicked at the start of this campaign, myself included.
Back then, I was hoping for an improvement on last season's 11th-place finish, but seventh, eighth, or ninth place was my target.
I thought the top six would be too much to ask and if you had told me the Toon would be third at the start of May, I honestly would have not believed you.
The fact that they are where they are with five games to go, and I am looking at the table to work out what they need now to secure Champions League football for next season, tells you what a superb job the manager Eddie Howe has done, and what a magnificent season this has been.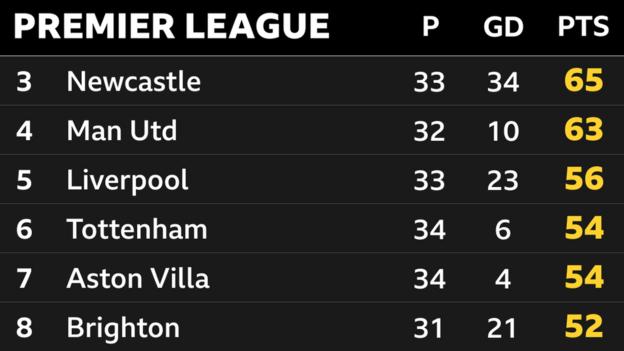 In terms of the maths, well two wins will definitely do it, unless Liverpool and Brighton win all their remaining games.
But Newcastle can take Brighton out of the equation when the Seagulls come to St James' Park next month and, although Liverpool have now won four in a row, they are conceding a lot of goals and, away from Anfield, they have been patchy at best.
I don't think even Reds boss Jurgen Klopp knows what he will get from his side next, so things are looking very good for Newcastle. They would get even better if they do make it into the Champions League, too.
The feel-good factor is already back
The last time they were there, in 2002-03, I was a Newcastle player under Sir Bobby Robson and the whole city was buzzing, not just the club.
The same thing is happening now, and it has been like this for the past few months. Wherever you go and whoever you speak too, the feeling with the fans is back to what it was like under Kevin Keegan or Sir Bobby – it is a happy football club again, something it had not been for such a long time.
Howe deserves great credit for making that happen, and a top-four finish would help him continue the amazing progress he has already made.
Champions League football would help with everything, from attracting bigger and better players to being able to pay for them without worrying about breaking any Financial Fair Play rules.
More than anything, though, it would mean so much to the Newcastle supporters.
The mood in the city would just be ecstatic and I don't think many people would disagree with me when I say that if any fans deserve a little bit of success, it is them – they have been starved of it for far too long.
Newcastle won't want this season to end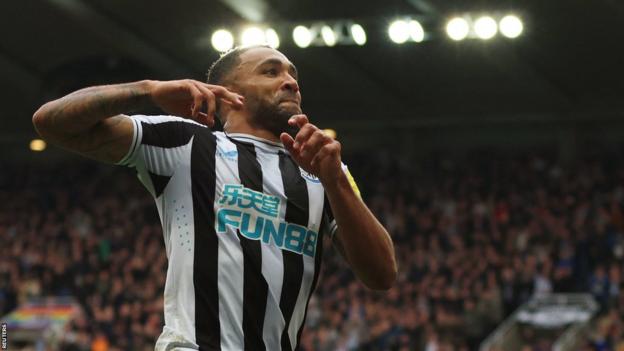 Some of the usual top-four contenders like Liverpool, Chelsea and Tottenham have all under-achieved this season but that takes nothing away from Newcastle – they are doing well enough to qualify for the Champions League anyway.
Another victory would see them already surpass the points total reached by Chelsea when they finished fourth in 2019-20 and 2020-21. Two more wins would take them to 71 points and no team has got that many without making the Champions League places since Arsenal in 2017.
The only real blip came in February when they lost the Carabao Cup final after a couple of league results did not go their way.
A few injuries and suspensions seemed to be taking their toll and the team lost some of its spark, but they responded with a run of five straight wins to get back on track.
It was the same story after they lost at Aston Villa a few weeks ago. That's the only time they have really been battered this season but they reacted to that by coming back looking stronger than ever.
Newcastle don't fear anyone, and when Arsenal come to St James' Park next Sunday, the place will be rocking. The Toon players must be loving that – I know I did – walking out there, into that atmosphere.
They don't have far to go now, but I'd imagine they don't want this season to end, because they are having so much fun.
Isak looks unplayable on the left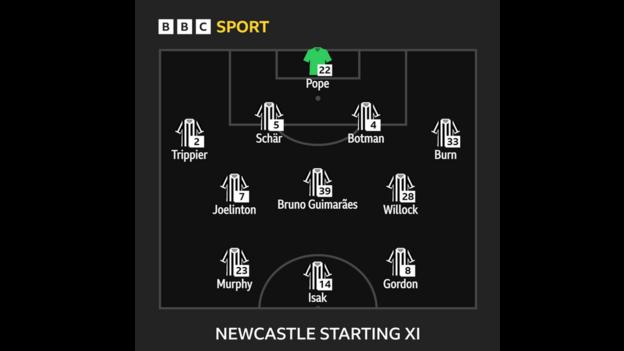 From front to back, Newcastle have been great to watch in every department, right through the team.
They still have the best defensive record in the Premier League this season, with just 27 goals conceded in 33 games but, as well as being solid, they have so much creativity and they are scoring lots of goals.
We saw that attacking flair make the difference again against Southampton on Sunday, thanks to another good decision by Howe, when his side were trailing 1-0 at half-time.
Anthony Gordon had been pretty poor and missed a big chance but Howe had the luxury of bringing Callum Wilson on, who changed everything.
It helped that they would be shooting down the hill towards the Gallowgate End because I know myself that's what you always want in the second half, whether you are chasing the game or not.
But there was more energy, they had more of the ball and they created better chances – they hadn't even had a shot on goal before the break – and Callum was a big part of that.
I love what Howe is doing by rotating him and Alexander Isak up front, although I imagine Callum is probably frustrated. He doesn't like the 'super-sub' tag and I can understand why.
Callum might not like starting games on the bench – in fact he definitely won't – but it is working for him and, more importantly, it is working for Newcastle. He has had two starts in the past month but has scored eight goals.
Far from affecting his performances negatively, it is firing him on and he is also staying fit. He has just matched the most league appearances he has made in a single season for Newcastle, 26, and the two goals he scored against Saints mean he has 15 Premier League goals in 2022-23, the best tally of his entire career.
Howe probably knows Callum better than anyone because of how long he has managed him for at Bournemouth as well as Newcastle. He knows how to get the best out him, but he also has another top quality striker in Isak, who is different in that he is more of a forward, someone who can play out wide as well down the middle.
Isak's form is incredible when you consider this is his first season in the Premier League and he was sidelined for the early part of it.
I was there at Anfield in August, when he scored against Liverpool on his debut, but he suffered a thigh injury a couple of weeks later and did not start another league game until February.
It must have been very a frustrating period, but just look at him now. At the moment, Isak is close to being unplayable when he is on the left, which is where he moved to against Saints when Callum came on.
But Howe has other options there, like Joelinton, who has been unbelievable this season and scored some crucial goals. It shows how much depth Howe has got in his squad now, and there is plenty of quality as well.
It's been a long time since that has been the case at Newcastle and, if Champions League football does arrive, you'd have to think there will be more exciting additions in the summer too.
Alan Shearer was speaking to BBC Sport's Chris Bevan.




[ad_2]

Source link