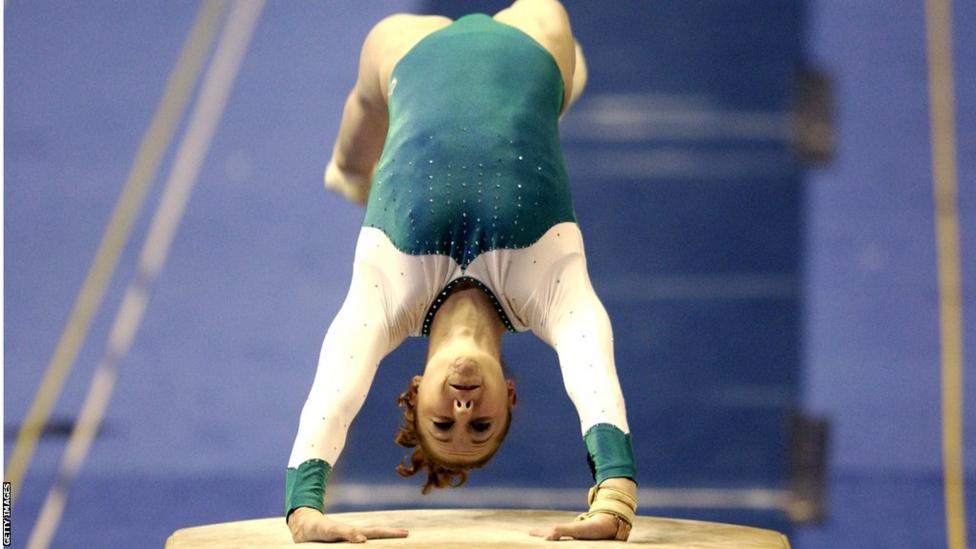 Under the lights and amid the sparkling sequins, Allana Slater's words hung in the air.
Slater turned and looked at her rivals. No-one answered her question.
"I thought that maybe they don't speak English, maybe they don't understand me or maybe they are so focused on what they are doing and where they are in the moment," she told BBC World Service's Sporting Witness.
Maybe they didn't think Slater's words even warranted a reply.
Her question was certainly odd.
Slater and 35 other gymnasts were halfway through the Olympic all-around final at the 2000 Sydney Games.
It was the peak of their careers. For Slater, just 16 years old, the pressure came with added decibels. More than 15,000 fans in the Sydney Superdome roared every time their compatriot approached an apparatus.
But, in the midst of it all, Slater had suggested the impossible.
Could the biggest stage of all really have been set too small?

Up until that moment, Slater's gymnastics career had been marked by how fast she had risen, despite a loss that would have weighed down most others.
She had started gymnastics as a toddler.
"I was the kid that walked on the beam at 16 months old," she said.
"I would be like 'no don't hold my hand, I'm fine'. For me it was really a sense of joy and love. I got to explore my physicality and push the limits of my mind and what I could do as a person."
Slater pushed those limits all the way to the world's elite.
She made her national debut aged nine and competed internationally at 11.
She was 13 when she travelled to one such youth-level competition – the Junior Pacific Alliance Championships in Colorado Springs in the United States.
Her father had insisted that Slater's mother accompany her on the long journey. His concern proved well founded, for reasons he could never have expected.
Slater's mother, stricken with grief, was there to tell her that her father's flight from Jakarta to Singapore had nosedived to the ground.
All 104 people on board had died.
"His plane went down while I was competing and I actually had a moment in competition where I forgot how to run down the vault runway," said Slater.
"I have never been able to explain it. I have never done anything like that before or after and I literally forgot how to run.
"We worked out from the timeframes that that was the moment his plane was going down.
"That experience gave me so much perspective. I found an inner strength I didn't know I had. It really helped shape the person I became, not only as a strong woman but also as a strong athlete."
Olympic competition is an extreme test for every athlete. The form Slater's took though was unique.
Slater was not expected to contest the medals in Sydney. She was too young and the competition too strong.
Russia's Svetlana Khorkina, the 1997 world champion and reigning European champion, was in hot form. She had been well ahead of her nearest rivals – a pair of Romanians – in qualification.
But Khorkina's campaign had rapidly and unexpectedly derailed. After a strong display on the floor – the first of the four disciplines – she went to the vault.
She didn't even get close to landing during her warm-up attempts, coming down on her knees.
Trusting her hours of practice and polish though, she stuck to her routine for the competition.
After a little shout of self-encouragement on the runway, she launched into the air, off the vault, twisting and spinning.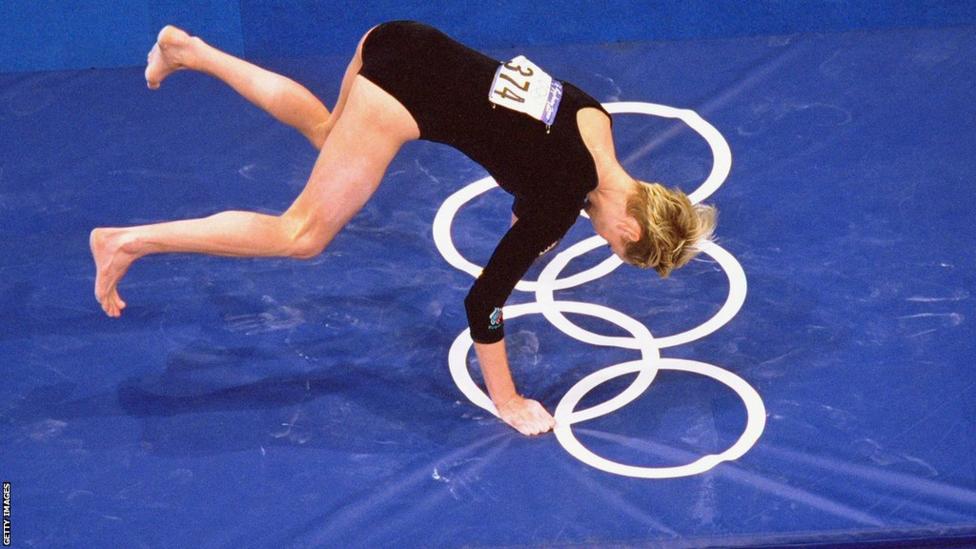 Once again, the floor arrived too soon. Her shins walloped into the crash mat. She hopped to her feet, struck a pose, but her face was already crumpling with disappointment.
Her hopes of gold were dashed.
She was not the only one to struggle.
American national champion Elise Ray botched both her vaults. Great Britain's Annika Reeder injured herself and had to withdraw from the competition. Brazil's Daniele Hypolito bashed her head as she whiplashed into her landing.
Even allowing for nerves, the standard was well below what was expected from the best in the world.
Having completed two disciplines, it was Slater's turn. She was the first of her group of gymnasts to attempt their third rotation – the vault.
"I was standing at the end of the 25m runway, I looked at the vault and I thought 'it is too low'. It just looked low," she said.
"I turned to my competitors and said 'the vault looks too low, does the vault look too low to anyone?'"
No-one spoke.
The vault may have looked low. Now, Slater decided to test if sensation backed up her eyesight. She took off down the runway.
"I was not a tall athlete and as I went off the big board and into the vault, the feeling I would normally get was one of going into the side of the vault," she said.
"But instead I coming down on top of it, it was absolutely a feeling I had never had on vault. I knew the feeling from the end of the runway was 100% correct – the vault was the wrong height.
"I had a choice as a 16-year-old – say something and stop the competition or just get on with it. I chose the first option."
Slater walked back to the vault, turned to her coaches Peggy Liddick and Nikolai Lapchine and motioned to show that the vault was nearer her stomach than her chest, where it usually came up to.
"Unless I had grown overnight it was too low," Slater said. "Nikolai looked me dead in the eye, measured it up on his own body and then this horrified look came over his face."
In the next few minutes, stunned realisation spread around the arena.
Tape measures revealed Slater was right. The vault was wrong. Instead of 125cm, it was set at 120cm. A difference of 5cm, almost two inches. It is a margin that could wreck a finely calibrated routine, it could be the divide between perfection and humiliation.
Olympic staff crowded around the vault, unscrewing bolts and shuffling it up to its proper height. Officials gesticulated awkwardly on the sidelines as the scale of the error became clear. Television commentators were aghast. Coaches were furious.
"I've never seen anything like it, even at a little, local meet," said Kathy Kelly, the United States head coach at the time. "It's bizarre is what it is."
Half the field had already competed on a vault set too low.
It was decided to offer those 18 the chance to repeat their vault. But for many it was too late.
Their confidence and concentration had been irrecoverably shaken. With her gold-medal hopes apparently dashed, Khorkina had committed another error on her next apparatus, the uneven bars.
Too far off the podium pace, she opted against a re-do and ultimately settled for 10th. Gold was eventually won by Romania's Simona Amanar.
"The sad thing is nobody really won out of the situation," said Slater.
"But what did win was a young athlete having a voice and being able to use it in one of the most pressured situations in her sporting career and being heard and listened to."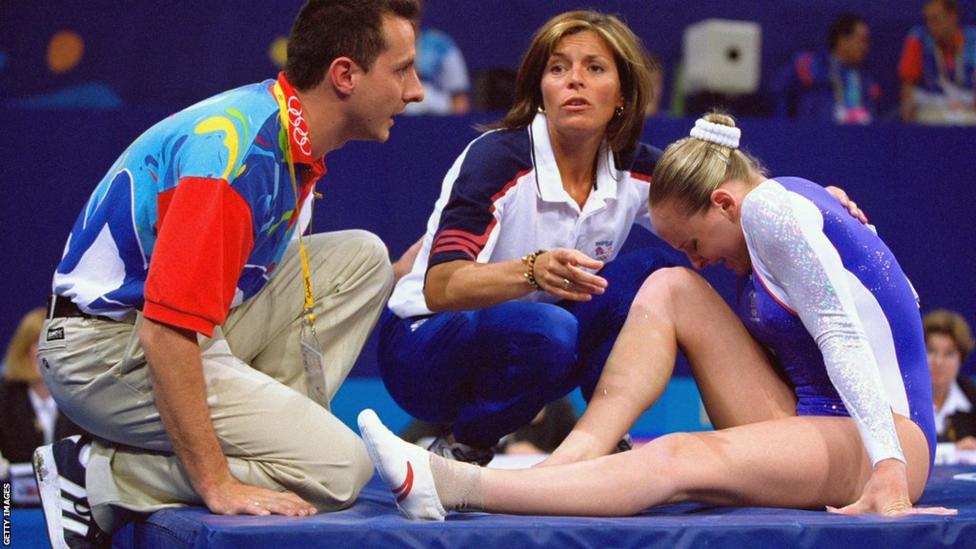 The inquest into how it all happened rumbled on.
It was suggested that the height of the vault had simply been overlooked when it should have been adjusted after the men's all-around final the previous day.
An error in the paperwork setting out the equipment dimensions has also since come to light.
But the incident has been part of celebrations as well as the source of recriminations…
In April 2013, Slater married Scott Penney.
While her father couldn't be there, her coaches from that day more than a decade before in the Sydney Superdome were.
"Nikolai walked me down the aisle," remembered Slater, who is now 39.
"It was such a beautiful moment. I have since heard from the girls who were training in the gym with him that he was so nervous that he had been practising, walking down the vault runway.
"Peggy gave a speech and the story of the vault was one of the highlights. She summed up by telling my husband, 'If Allana thinks she is right, she probably is right, and you had better believe her!'"