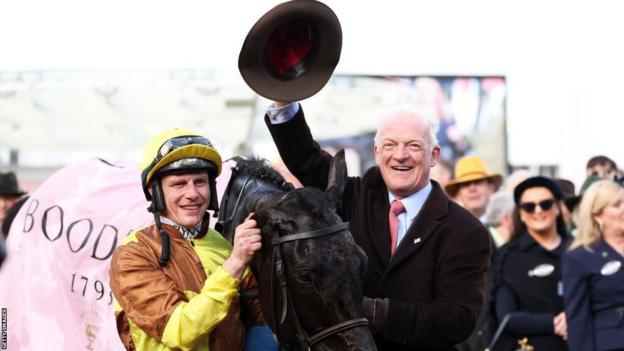 Willie Mullins said he was struggling to take in his success after Galopin Des Champs gave him a third Gold Cup and 94th Cheltenham Festival victory.
Mullins was the meeting's top trainer for a fifth year running, but admitted huge pressure saddling the favourite.
He said jockey Paul Townend had given one of the great Festival rides for the trainer's sixth winner of the week.
"It's mind-blowing. I can't comprehend the number and quality of horses we have at home," said Mullins, 66.
The Irishman, who now trains more than 200 horses from his County Carlow base, said he had once left Cheltenham dreaming of just having a Gold Cup runner.
Now, after finishing runner-up on six occasions, he has won the race twice following Al Boum Photo's victories in 2019 and 2020.
"It's something no-one could have dreamed of. I pinch myself and we don't take it for granted," he said.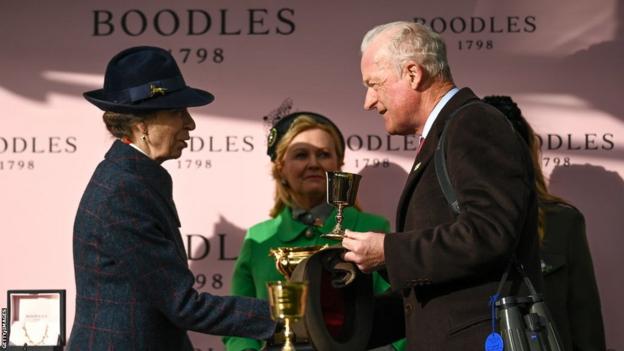 Galopin Des Champs had been a final-fence faller when set to win a novices' chase at Cheltenham last year, had never been beaten over fences when completing his contests and came into the race having won the Irish Gold Cup.
But as he stepped up further in trip, some had questioned the horse's stamina.
"It's very special. That was the most pressure I've felt. We felt we stuck our necks out and said he is a Gold Cup horse. The relief is immeasurable," he said.
The line-up had a high-quality feel to it, but Ahoy Senor and Hewick – who were both in contention at one stage – were fallers, while Sounds Russian was brought down.
As the drama unfolded, Townend stayed patient at the rear of the field, then allowed Galopin Des Champs to steadily pass his rivals before taking on Bravemansgame and surging up the hill for a seven-length victory.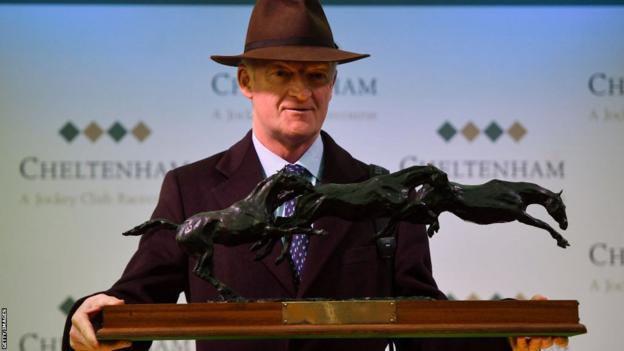 It was called "as brilliant a ride as I have ever seen in a horse race" by retired 20-time champion jockey Sir Anthony McCoy.
"Talk about riding a horse with bottle. Talk about pressure – the privilege of pressure – and he's coped with it better than anyone I've ever seen," McCoy told ITV Racing.
Mullins, who had his first Festival winner in 1995, told BBC Sport Townend – claiming his fifth victory and leading jockey this week – had produced one of Cheltenham's great rides.
"It took a lot of nerve and was a hell of a ride," he said.
Townend admitted it had been a "messy" race for him.
"I couldn't get a clean passage early, and he started jumping in the air a little bit, but when I got a bit of room, in fairness to him he came back into a rhythm with me and was very, very brave," he said.
"I think he got me out of a fair hole, to be honest – I was a lot further back than I wanted to be, but it was just the ride I had to give him."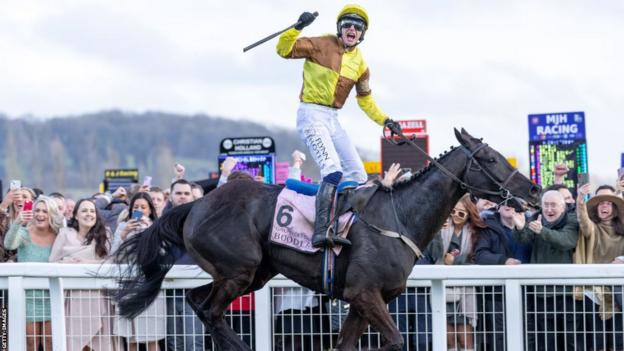 No disqualifications under new whip rules
Much of the talk in the build-up to the meeting had been around new whip rules for jockeys and the possibility of horses being disqualified.
While decisions on any whip rule breaches will not be made until next week, only six of the 444 rides have been referred and none of the winners will be thrown out.
Instead, the Festival witnessed a spine-tingling Champion Hurdle triumph by Constitutional Hill on Tuesday followed by the emotional swansong success of Honeysuckle.
Then on the final day, the Gold Cup produced a great ride on a grand galloper for the meeting's greatest trainer.