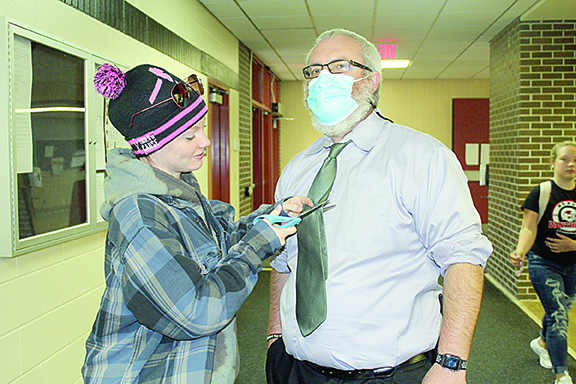 During the week of October 18-20, NRHEG students Natalie Johnson and Corbyn Delacruz were recognized as "out-of-the-box." Here, Natalie cuts Vice Principal David Bunn's tie. Corbin did Ms. Domeyer's cut at middle school lunch.
Mar Montreal
panther press
Under a program aimed at "recognizing a subset of students who do not always stand out as perfect grades or outstanding athletes," NRHEG teacher Mark Demeyer and deputy principal David Bunn said that students Break the ties and allow yourself to spend the rest of your time. A day to wear newly shaped "art".
Domeier, who manages the program, explains that different adjectives are chosen each week, such as "creative" and "energetic." The staff then nominates the student who personified the word. All staff will be asked to vote for the candidate of their choice. At the end of the week, the students with the most votes are tied at lunchtime.
Domeier remembers that the system used to be in school.
When asked if he liked being in a draw, he said, "It's fun to see the reactions of both the kids when they realize they've been nominated and the actual winner." The response was really good…" he adds.
Bunn is in charge of Cut the Tie in the high school area. He remembers that the previous version was "quite popular, and staff and students really liked it." In addition, Ban, who has been doing school online for a long time due to the pandemic, wanted to bring back some positivity to school. He said, "We've all been through a lot in the last few months…we need positive things to look forward to at school."
Bunn says that cutting ties is a good incentive for good behavior because "students get recognized by staff by being nominated." He also admits that he enjoys the tradition because he wants to see his students recognized for "…certain personality traits."
This week's Cut the Tie winners, nominated for being "original," were high school student Natalie Johnson and middle school student Corbyn Delacruz.
Natalie Johnson, a senior at NRHEG High School, said, "It was the weirdest thing I've ever been through."
Natalie had to cut Mr. Bang's tie in front of the office at lunchtime before the MEA weekend. She says she was very surprised to be selected. However, she objected as her staff nominated her with the most votes.
Natalie says she doesn't know if she's "original" outside of school.
Corbyn de la Cruz received the most votes as the "original" middle school student, so he had Mr. Domeyer's tie cut at lunchtime. Cutting the Tie seems to be a great tradition carried out by NRHEG Public Schools. It inspires students to do better, and staff recognize the various positive traits that students possess and look forward to being recognized for their distinctive personalities.