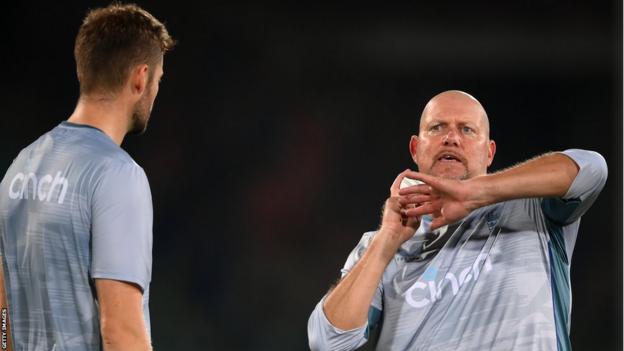 David Saker will return as England's fast bowling coach for the upcoming Ashes series.
The Australian was previously part of the set-up when England last won the Ashes away from home in 2010-11.
Saker, 56, will also fulfil the role for the 50-over World Cup title defence in India in October.
He is already working with England's white-ball bowlers after Matthew Mott appointed him before the T20 World Cup win in November.
After an initial five-year stint with England, Saker worked with Australia's fast bowlers, including current captain Pat Cummins, between 2016 and 2019.
He helped Australia regain the urn in 2017-18 and is also head coach of Melbourne Renegades in the Big Bash League.
The Ashes is set to be a mouth-watering contest with Australia top of the ICC Test rankings, while England have won 10 of their past 12 Tests under captain Ben Stokes and coach Brendon McCullum.
"I said 'yes' straight away because of the magnitude of the occasion," Saker said. "Once he [Stokes] pushed it, it made it an easy decision. It's looking to be a hell of a series with these two teams."
Saker completes McCullum's coaching staff alongside Paul Collingwood, Marcus Trescothick and Jeetan Patel and will have to manage the fast bowlers' workloads for five Test matches in just over six weeks.
Fast bowler Jofra Archer is steadily rebuilding his fitness in England's white-ball side after almost two years out with injury.
Fellow quick Mark Wood injured his hip during the T20 World Cup while James Anderson, 40, and Stuart Broad, 36, are also unlikely to play all five Tests in a row.
"The outliers are obviously the 150kmh bowlers," said Saker.
"It's exciting if we can have Jofra and Wood available, whether you play them together is another thing but I think you need that pace against the Australians.
"But playing in English conditions, I think it puts their bowling group in front of the Australians, without a doubt. "