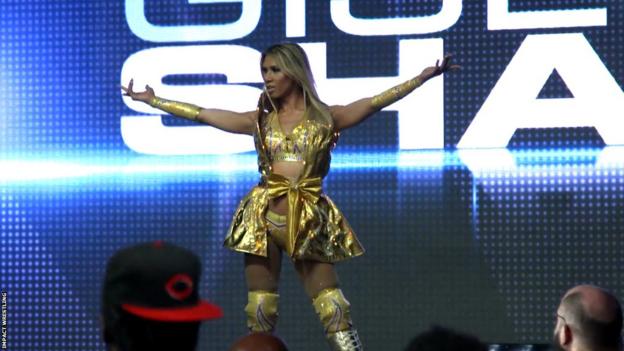 "Wrestling is such a journey that you don't just find your character, but yourself as well."
Gisele Shaw, the self-proclaimed 'Quintessential Diva', seems an unlikely person to say those words, as someone who appears so sure of herself in the sporting arena.
Yet last year, she faced a major life decision – to tell the world that she was transgender.
Shaw had kept her gender identity hidden as she established herself as a professional wrestler, until one incident convinced her it was time to be her true self.
"I was at a bar, and this girl came up to me," she says.
"She was belligerent – and out of nowhere, she says: 'You're a boy, right?'
"It was just so shocking, and I didn't know what to do. I just froze, then went home and cried and cried and cried. And I knew something had to be done about it."
Shaw's vulnerability in that scenario contrasts with the self-assured face she presents in public.
She exuded confidence as she strode to the ring to challenge legendary competitor Mickie James for the Impact Wrestling Knockouts World Championship last Thursday.
The result of that contest was pre-determined, as are all the outcomes in an entertainment spectacle that combines sport and showbusiness. The endings are scripted but the athleticism is real.
On this occasion, it was James who prevailed, retaining her title in a contest that had the crowd on its feet as she scored the decisive pinfall.
But for Canada-based Shaw, the loss didn't hurt.
Just being able to step into the ring as her authentic self has proved to be victory enough – as there was a time when she thought that being open about her identity could ruin her career in an industry she'd loved for as long as she could remember.
'I didn't know I could train as a wrestler'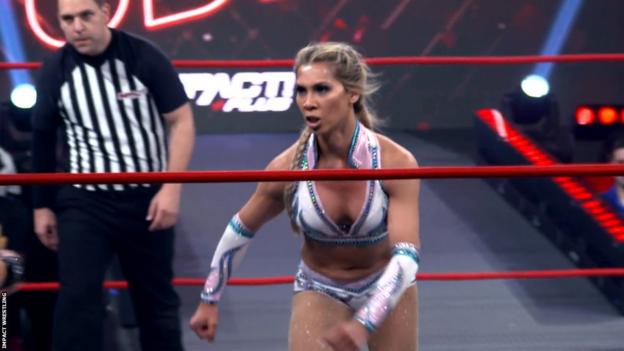 Born in the Philippines, Shaw has her grandmother to thank for introducing her to professional wrestling.
Together, they'd sit and watch the larger-than-life antics of female competitors such as Chyna and Lita in the WWF (now WWE) – the federation which, presided over by Vince McMahon, had turned itself into a pop-culture phenomenon by the start of the 2000s.
Shaw was enthralled, but had no illusions that she herself would ever step into the ring.
"I didn't know I could go to school and train as a wrestler," the 34-year-old admits.
"I was actually a flight attendant at the time, and a friend of mine at the gym asked if I wanted to go to a show. I just fell in love with it, and remember saying to the promoter I wanted to be the next Trish Stratus."
Getting into the same industry as Stratus, a seven-time WWE Women's Champion and one of the promotion's all-time greats, had seemed impossible for Shaw.
But that conversation led her to enrol at the training academy of Lance Storm – a legendary Canadian grappler widely regarded as one of the most technically gifted wrestlers to have competed.
"It was surreal, as I watched Lance growing up," Shaw remembers.
"I was the only girl on that first day, and he told everyone that if they ever disrespected me, there were going to be issues. He really laid that down from the get-go.
"The guys took it easy on me, but I didn't take it easy on them. And when they understood that I was OK with it, they were like: 'OK, let's go!'"
'It's a privilege to call myself a Knockout, and I don't take that lightly'
With the technical skills under her belt, Shaw set about honing her in-ring persona – or 'gimmick', to use the parlance of the wrestling trade.
An opportunity to compete on the British independent scene led her to move to Wales, and it wasn't long before she was turning heads.
Soon, Shaw received a message from Impact Wrestling – an American organisation that had made a name for itself by showcasing hard-hitting women's bouts in its 'Knockouts' division at a time when other federations were barely putting female athletes on their cards.
"They asked if I was interested in signing, and it's still surreal to me, even now," Shaw says.
"The Knockouts division was a pioneer, and really gave women the chance to showcase who they were. The brains, the brawn… they kicked butt all the time!
"Not everyone gets this opportunity, so to call myself a Knockout is a privilege – and I don't take that lightly."
'It was time for me to be who I am'
Shaw had worked hard to make it to the top as a professional wrestler.
But as she rose through the industry, she kept hidden the fact she was transgender, and worried that opening up about her gender identity could end her wrestling dream.
"I never, ever thought I would disclose," Shaw admits.
"This industry is very cut-throat and I didn't want to give anyone a reason to say 'no' to me. I wanted to show them the wrestling side, and that being trans is not a 'gimmick'. I didn't want to be known as the trans wrestler and make it that way, but due to my skills and hard work."
But then came the bar incident that shocked Shaw so much. She had not expected that confrontation, that belligerence. It hit home as hard as any blow she'd ever received in the ring.
"Growing up, I've always wanted to inspire people, but I couldn't really do that if I wasn't being true to myself," she says. "So I made a decision and told Impact Wrestling that it was time for me to be who I am, and live my best life freely and authentically."
'I wanted to immerse myself in being free, that liberation from hiding'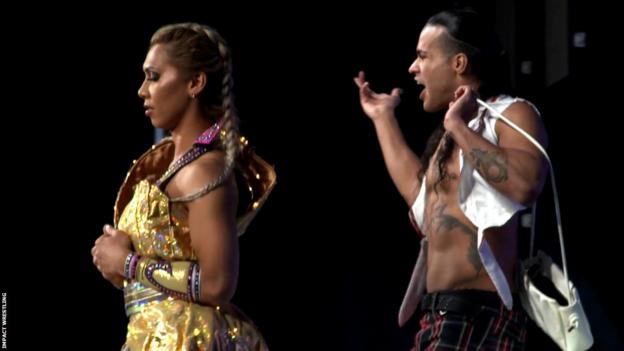 Shaw couldn't have picked a bigger stage to share her story.
Speaking on national television at last year's Toronto Pride, she disclosed the fact she was transgender for the first time.
"It was a huge decision," Shaw says.
"Once I opened that box, it would be out there and I wouldn't be able to put it back in.
"You know, I've said that, if I went to a public place or restaurant, I was always thinking about if anyone could tell – and I couldn't really be present.
"So to go to Toronto Pride where everyone was so loving and accepting, and I didn't have to think about that. I didn't care… that was it.
"My phone buzzed for days afterwards, but I didn't even pay attention to it. I wanted to immerse myself in being free, and that liberation from all those years of hiding. I just wanted to be in the now."
So, what does that 'now' look like for Shaw?
A documentary about her story has been released this week, and Impact Wrestling's Sacrifice show is coming to Windsor, Ontario – near where she lives – on 24 March.
Shaw is also keen for the chance to avenge her loss to James, and has her eyes firmly set on winning Knockouts gold in either the singles or tag-team division.
But more than that, she's just glad to be making an impact on her own terms.
"Being a transwoman is part of me, but it's not a 'gimmick'," Shaw says.
"That's who I am, that's my life.
"Every person who is living their life authentically makes this industry and the world better.
"And that's what it's all about."
Impact Wrestling's Gisele Shaw was speaking to Jack Murley on the BBC's LGBT Sport Podcast. You can hear new episodes every Wednesday on BBC Sounds.