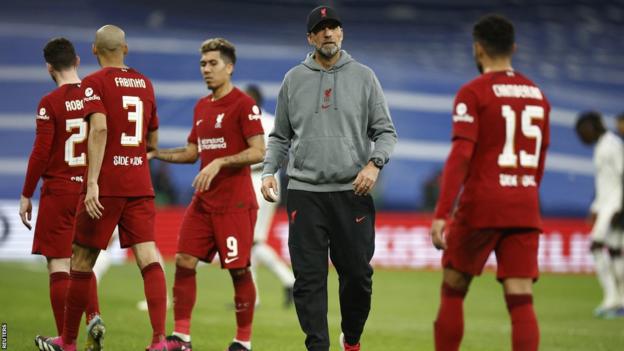 Jurgen Klopp says Liverpool face a "massive task" to be back in the Champions League after their annihilation by Real Madrid – as the feeling grows this might be the end of an era for his side.
Liverpool, winners in 2019 and beaten finalists just last year, will not even be in next season's Champions League unless their form picks up.
"We prepared for a special performance but we were not able to put it out on the pitch tonight. It was obvious. Nobody is thinking, 'how did Liverpool go out?'" said Klopp.
The front three that took them to three Champions League finals in five years is breaking up. Sadio Mane left for Bayern Munich last summer, and Roberto Firmino is leaving at the end of the season. Only Mohamed Salah is left.
Captain Jordan Henderson turns 33 at the end of the season and James Milner, who started at the Bernabeu, is 37.
Former Scotland midfielder Charlie Adam, who played for Liverpool in 2011-12, said on BBC Radio 5 Live: "I think Jurgen Klopp has been a little too loyal to these players, especially when you look at what Pep Guardiola has done with the likes of Joao Cancelo at Manchester City and moving players on to bring others in.
"But I think as a manager you also have to respect what the players have done for you and those are decisions that have to be made by the staff."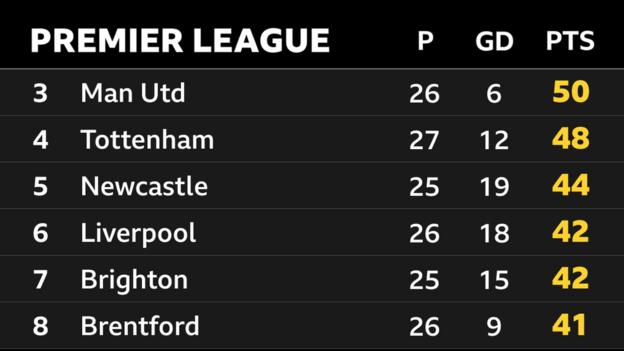 His 5 Live colleague Chris Sutton, who played in the Champions League for Blackburn, Chelsea and Celtic, said: "It was quite a flat performance, I just think this season they have been so inconsistent in terms of performance levels and results.
"It is absolutely critical they make it into a top-four spot. That is what they have to think short term.
"It will be interesting to see where Liverpool go from here and especially in the summer."
Last season Liverpool were in the hunt for a quadruple until the final week of the season, winning the two domestic cups but missing out on the title to Manchester City on the final day and losing to Real Madrid in the Champions League final.
This time their hopes of any trophy are over on 15 March.
They sit sixth in the Premier League, only goal difference keeping them above seventh-placed Brighton – who were beating Crystal Palace as the Reds were playing at the Bernabeu.
Unless they claw back the six-point gap on fourth-placed Tottenham, and also overtake Newcastle, they will fail to be in the Champions League for the first time since Klopp's first full season in charge in 2016-17.
Klopp said: "With the history we have in this competition we start usually with the idea of winning it.
"It is 'the' competition and we want to be part of it every year and that is now a massive task for us.
"We come back from the international break and we have a proper football week ahead of us with three games – City, Chelsea, Arsenal – which will then probably define where we get out of it. This week is a pretty decisive one.
"Our job is to squeeze everything out of this season. It is clear we want to be top four."
But former Liverpool striker Michael Owen does not think it is all doom and gloom.
Speaking on BT Sport, he said: "Liverpool's strength is that group of players who have been to the trenches and won together.
"That takes years of building. Why is everyone talking about a refresh?
"I think Liverpool have got enough. Looking through their starting XI, there's nobody out there better than their goalkeeper. Their right-back is unbelievable, the left-back too, Virgil van Dijk is probably the best in the world on form. Ibrahima Konate is brilliant. The front five are brilliant.
"Darwin Nunez was the hottest striker around last year. Cody Gakpo was one of the stars of the World Cup.
"When they bought Mohamed Salah, Sadio Mane and Roberto Firmino they weren't £100m players, they weren't the best in the world at the time. Nunez could be anything, he could be one of the best in the world in five years."
But former Manchester United centre-back Rio Ferdinand countered: "In the last couple of windows, they have not bought players who change the starting XI.
"People are asking is this cycle over? How do they stay at this level? Are they going to buy squad fillers like they have been doing?"