[ad_1]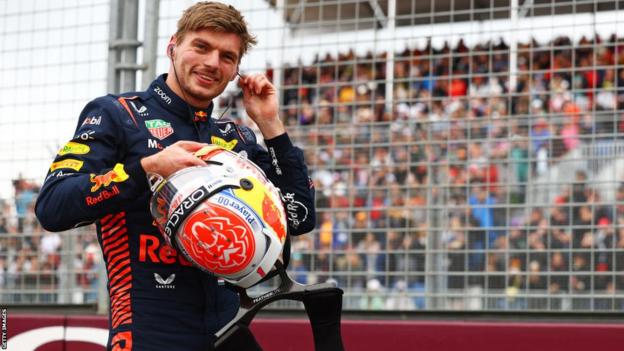 Max Verstappen says he enjoys racing and winning and the money that comes from it – but could still end up asking himself whether Formula 1 "is actually a good life".
The Red Bull driver's concerns stem from the ever-expanding schedule and F1's trials of different formats, such as the revised 'sprint' in Baku this weekend.
"I always said that even if there won't be any more sprint races, if we keep expanding the calendar and the whole weekend is that long, at one point you question yourself: is it worth it?" Verstappen said.
"I do like racing. I do like winning. I know that, of course, there is the salary and everything, and you have a good life. But is it actually a good life?
"I think sometimes you get to a point in your career where maybe you want to do other stuff.
"I have the contract until the end of 2028 and then we'll review again, but I do feel that if it's getting at one point too much, then it's time for a change."
The two-time champion has always made it clear that he does not especially enjoy the 'sprint' weekends, which feature a shorter race on Saturdays in addition to the grand prix. He prefers F1's traditional approach.
But combine this with four-day weekends, and a calendar that this year will be a record 23 races, with potentially even longer schedules coming in the future, and Verstappen finds himself pondering his long-term future at a time when many might expect him simply to be loving life.
He admitted it was "a bit difficult to imagine what is going to happen past 2028". And he acknowledged some would not understand why he was feeling so ambivalent about a long-term future in F1.
"This sounds very weird for people from the outside, because they're like: 'Oh, you're in Formula 1, you're winning!'" Verstappen said.
"And probably I would have said the same when I was in their position. But once you're in it, it's not always how it looks like or how people think your life is.
"I mean, yes, it's great, it's amazing and I can do a lot of things. I'm very independent. But there is always a limit to certain things."
Verstappen has won the title for the last two years – controversially against Lewis Hamilton in 2021 and then in dominant fashion last season – and is already well on course for a third championship in 2023.
Red Bull look like they could dominate F1 for the next few years – at least until a new set of rules is introduced in 2026.
Verstappen is said to be paid a salary in the region of 40-50m euros and he made it clear he was committed to Red Bull at least until the end of his existing contract.
But he said he was not motivated by breaking Hamilton's F1 records.
"No I'm not interested in winning seven or eight titles," he said. "If you have the car to do it great, but I am already happy so it's OK."
Verstappen added: "I want to do other things, other competitions. A bit like Fernando [Alonso] did. But it also needs to be worth it to come back [to F1].
"Some people just love racing and that's the only thing they know and the only thing they want to do. I am probably a bit more in the middle. I mean, I do love racing. But I also want to do other kinds of racing. And then you can't combine the two or set up other kinds of stuff."
He said his other ambitions were in "endurance racing" and "owning my own team". But he ruled out racing in IndyCars.
"I like watching IndyCar," Verstappen said. "I think there are a lot of great drivers in there and also people I raced against, so I have a good connection with them. And I like seeing them do well.
"But me driving the Indy 500? Absolutely not. I might go there and watch but not race."




[ad_2]

Source link