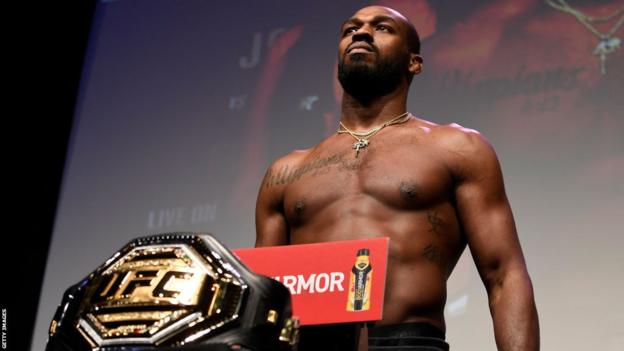 Heavyweight contender Tom Aspinall writes for BBC Sport about Jon Jones' highly anticipated UFC return against Ciryl Gane for the vacant heavyweight title.
Former light-heavyweight champion Jones has not fought for three years and moves up to heavyweight for the first time.
Jones is considered by many fans as the greatest fighter of all time and a win could cement that status. But is heavyweight too much of a jump for the American? Or can Frenchman Gane claim the title vacated by Francis Ngannou at the second time of asking?
Jon Jones is a master, but heavyweights need to be ready for anything. You're always one punch away from disaster.
Jones is so free when he fights. His fight IQ is far superior to anyone he's ever faced.
His confidence is off the scale and that's what I'm trying to achieve myself, to have that confidence where you just know you're miles better than everyone else. That's what Jones has got.
You can see how free he fights. You can't look at Jones and say 'oh, he's only good at this'. He's good at everything.
He uses all different weapons, all different techniques, all different styles and that's something that I want to implement into my own game.
Jones freezes a lot of his opponents. His style freezes people because they don't know what he's going to do.
It's extremely interesting that potentially one day I could fight him because he's been a hero of mine for a long time.
I've watched his whole career. The Lyoto Machida fight in 2011 is one of my favourite Jones moments. He choked Machida out with a guillotine and then just let him go when he was unconscious, that was absolutely wild. Brutal, but vintage Jon 'Bones' Jones.
The move up to heavyweight is an unknown for Jones, but something that can strengthen his claim to be the greatest of all time.
In my opinion Georges St-Pierre is the best ever, simply because the Canadian has done it at two weights – welterweight and and middleweight.
Jones right now hasn't done it at two weights, but if he does win the heavyweight title as well, I think he would definitely be in that conversation.
Outside the octagon there have been issues, but Jones is human and everybody makes mistakes.
It just so happens that he's really famous so a lot of people see those mistakes. You know, some of the stuff he's done isn't great, but I've done some not so great stuff as well. It's part of life.
Despite the doping suspensions and personal issues, I don't think it has tarnished his legacy in any way. When you have achievements like his, they speak for themselves.
Fighting Ciryl Gane for the heavyweight title is no easy thing. Gane's a new breed of heavyweight. He's fast and strong, like me. There are definitely holes in his game but there are holes in everybody's game.
He took a loss against Francis Ngannou, but I'm sure he's going to learn from it and he's going to fix some stuff. It will be interesting to see those improvements.
A lot of people are writing Gane off, but I'm definitely not doing that. I can see either guy winning.
Three years is a long time to be out of action, but I don't think that the inactivity will be as much of a hindrance to Jones as it would somebody else, just because he's got so many weapons.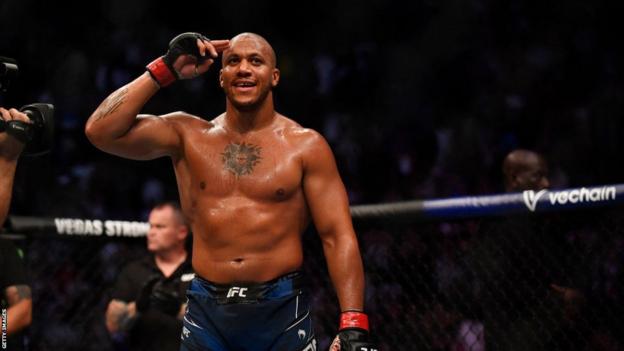 Jones' unpredictability is a massive advantage. Of all his skills, I think that will be the one to transfer to heavyweight the easiest.
The key to beating Jones is to keep him guessing, because he will keep you guessing at all times.
That to me is the ultimate style of martial arts – not letting your opponent know what you're going to do next. That is how Jones freezes people.
At light-heavyweight, he used his length really well, which makes the move to heavyweight really interesting because he's going to be an average height heavyweight.
He will be the smaller guy against lots of the heavyweights. But Gane is not like a lot of the other heavyweights, he does not just plod forward and try to take someone's head off.
It could work to the disadvantage of Jones that Gane actually fights more in the style of a smaller guy, not like a bigger guy.
The weight is another interesting factor. It's going to be interesting to see how Jones carries the weight.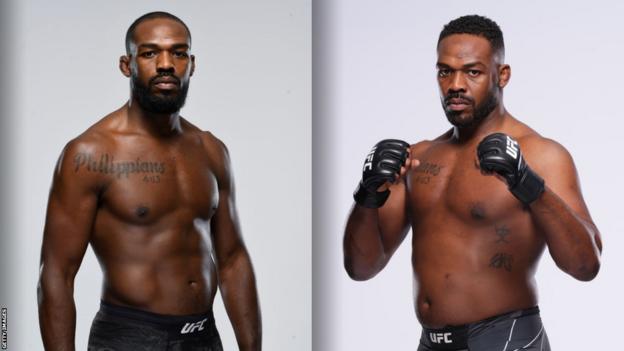 There's a big difference with fighting guys weighing 205lbs and below and jumping up to heavyweight fighting guys who can be as much as 265lbs. Gane was 257lbs for his last fight.
If Jones has piled on as much as 30lbs, then it could have an effect. I want to see how that carries over to his movement and cardio.
I think Jones can definitely do it. I'm not sure that he will, I'm saying he can – there's a big difference.
The thing about the heavyweight division is it's completely different, it's almost got its own rules in comparison to the other divisions.
Sometimes it doesn't really matter how technically superior you are to the other guy or how much fitter or stronger you are or how much smarter you are.
Sometimes it takes just one punch and that's it. And that goes across the all divisions, but I think it's even more apparent at heavyweight.
You're one punch away from complete disaster.
I'm struggling to pick a winner. To be honest, one day I'm leaning towards Jones and the next I'm leaning towards Gane.
I have absolutely no idea, but I can't wait to see it.