[ad_1]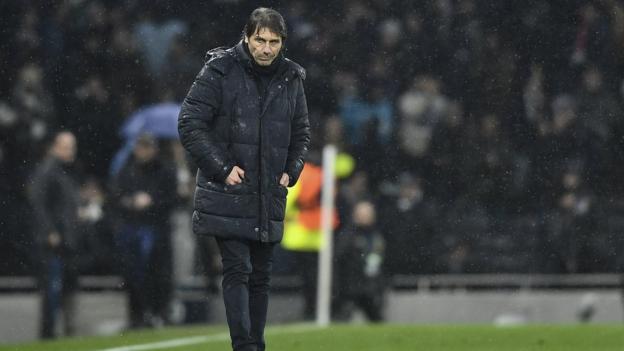 When the final whistle sounded in the goalless draw that confirmed Tottenham Hotspur's exit at the last-16 stage of the Champions League, every sight and sound screamed the beginning of the end of manager Antonio Conte's 16-month reign.
Spurs fans reacted furiously, the body language reflected a broken team, the empty seats illustrated the brutal reality of the discontent that bubbled beneath the surface throughout what should have been a full-blooded and furious attempt to rescue their European aspirations against AC Milan.
The ramification of this defeat over two legs may be felt far and wide at Spurs, but it was the manner of the performance that will bring justifiable criticism down on Conte's head, his eventual exit now surely a formality, whether it comes at the end of the season or before.
There is no indication he is willing to renew a contract that expires at the end of this campaign, and just as significantly no sign that Spurs are desperate for him to sign one.
It just seems a matter of time before Conte leaves.
His approach and the passive, conservative gameplan of the first 45 minutes sucked the life out of a Spurs support who had built up a superb atmosphere before kick-off. Instead, they sat back and allowed Milan to settle into their task.
In sharp contrast to the positive mindset adopted by Graham Potter's Chelsea when faced with a similar assignment against Borussia Dortmund at Stamford Bridge 24 hours earlier, Spurs played as if they were blissfully unaware that they actually had to score a goal to stay in the Champions League.
Spurs' motto 'To Dare Is To Do' was flouted spectacularly. No daring. No doing. And out they went.
The reaction at the end left Conte and his players in no doubt about how Spurs fans felt, and who could blame them? Where was the urgency? Where was the intensity? Where was the creativity?
Conte's team lacked midfield spark. Son Heung-min was poor while Harry Kane was starved of serious service, though he almost rescued Spurs and sent the game into extra time, only to be denied by Mike Maignan's magnificent save.
It would have been an undeserved reprieve for Conte and Spurs, because nothing about their performance merited any opportunity to secure a place in the Champions League quarter-finals.
The midfield duo of Oliver Skipp and Pierre-Emile Hojbjerg never lacked endeavour, but they could not provide the sort of supply line which would trouble Milan and allow Kane, in particular, to thrive.
This now has all the hallmarks of a managerial reign that is coming to a loveless conclusion unless Conte can inspire Spurs into the Premier League's top four – which will be unlikely if they show this lack of ambition and could have even more fallout further down the line.
The whispers have already started that Kane may consider his future if Spurs are not in the Champions League next season. This defeat condemned the 29-year-old club-record goalscorer to another season without a trophy.
Spurs' night was summed up by the behaviour of defender Cristian Romero, a walking yellow card who then turned it into a red one with a ridiculous late challenge on Theo Hernandez.
Romero may be a World Cup winner with Argentina but his villainous hard-man act is wearing thin, senseless being a generous way to describe the wild launch into Rafael Leao that reduced Spurs to 10 men for the last 12 minutes. It was the act of a liability.
Spurs fans were given plenty of opportunity to vent their frustrations, whether it was the aimless passing, the tediously slow build-up, the hopeful long balls or the substitution of the popular Dejan Kulusevski for Davinson Sanchez – this was a thoroughly dire night all round.
There is still a Champions League place up for grabs. Spurs remain in fourth place but Liverpool are looking increasingly ominous right behind, three points adrift with a game in hand. There is no question which team has the greater forward momentum.
No matter how uncertain the future looks for Conte, Spurs must somehow put this whimper of a Champions League departure behind them quickly or even that consolation could be pushed beyond them very swiftly.
The overriding feeling, apart from the unrelenting misery and the disappointment of Spurs' performance and results, is that the countdown to the Italian's departure is now under way. The clock is surely ticking on Conte's tenure as Tottenham manager after a truly dismal Champions League exit at the hands of AC Milan in front of their own furious fans.




[ad_2]

Source link