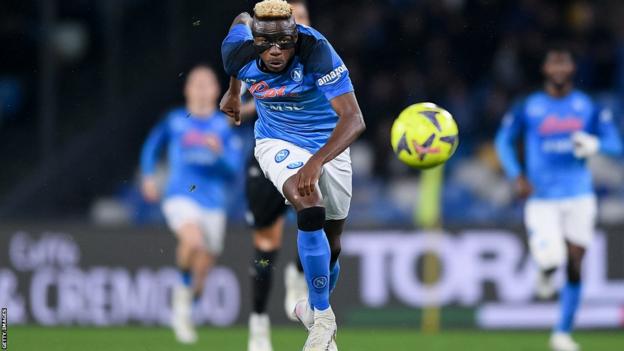 Victor Osimhen has become the envy of Europe's top clubs with his blockbuster performances for Napoli this season, and says his dream is to play in the Premier League – so could that happen and what would he bring?
Napoli have been one of the surprise packages of this season – and sit 18 points clear at the top of Serie A as well as being on the brink of the Champions League quarter-finals.
They host Eintracht Frankfurt on Wednesday in the last 16 second leg, having won the first game 2-0 in Germany.
Nigeria striker Osimhen, 24, is Serie A's top scorer with 19 goals in 22 games, five more than Inter Milan's Lautaro Martinez.
Only Manchester City's Erling Haaland and Tottenham's Harry Kane have scored more goals in Europe's top five leagues than Osimhen.
A proper number nine, his 6ft 1in frame, pace and finishing make him almost unplayable at times.
So what now for a man who idolised Chelsea legend Didier Drogba and rejected the chance to join Arsenal?
Will Osimhen come to the Premier League?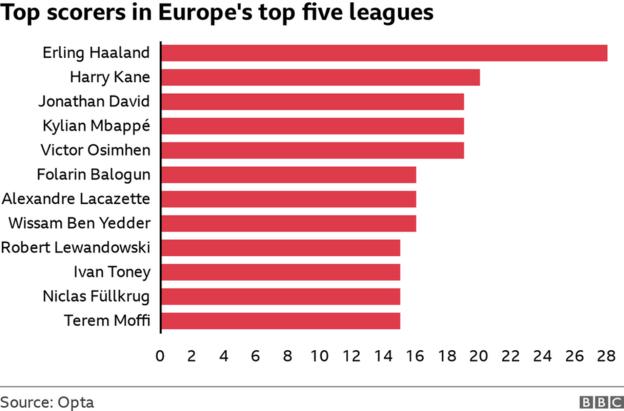 Osimhen, who played for Wolfsburg, Charleroi and Lille before joining Napoli in 2020, recently made headlines when he said: "I'm working so hard to make sure that I achieve my dream of playing in the Premier League some day.
"It's a process and I just want to keep on this momentum and continue to do well.
"A lot of people worldwide consider the Premier League as the best and the strongest league but now I'm in one of the best leagues in the world which is the Italian Serie A."
A switch to England might not be simple though, with Napoli president Aurelio de Laurentiis a larger-than-life figure and difficult negotiator.
James Horncastle, an Italian football expert, said on BBC Radio 5 Live's Football Daily podcast that Osimhen would cost mre than 100m euros (£89m) and "probably closer to" 150m euros (£133m).
Only Paris St-Germain duo Neymar and Kylian Mbappe have ever moved for fees of £133m or higher.
The current British transfer record is Chelsea's £107m signing of Benfica midfielder Enzo Fernandez in January.
Horncastle added: "The one thing to counter against the inevitability that so often is projected from the entitlement of Premier League clubs and fans is that ultimately negotiating with Napoli is never easy.
"There's a reason Kalidou Koulibaly only joined Chelsea in his 30s when he was linked to the Premier League for five years."
Chelsea signed Senegal defender Koulibaly, 31, from Napoli last summer for £35m – having first tried to sign him in 2016.
Talking about Napoli's all-time top scorer, Horncastle continued: "Chelsea were prepared to sign Dries Mertens when Frank Lampard was the manager [in 2020] and instead he only leaves [last summer to Galatasaray] when Napoli said we won't give you a new deal.
"It'll be the same with Victor Osimhen. I'm sure many clubs will get in touch with the president and after a month of negotiation will think is this really worth it? That's always been De Laurentiis' great strength."
Horncastle added: "He wasn't suggesting a Premier League move was imminent, more it's something he's working on and it'll happen if it happens."
Who could want Osimhen?
There are only a handful of clubs who could possibly afford Osimhen, who has scored 15 goals in 22 games for Nigeria.
"I don't think his point of view is surprising considering the perception of the Premier League is the best in the world, where clubs can make the most money – with the exception of PSG, Real Madrid or Barcelona to some extent," said Horncastle.
Chelsea, Arsenal, Manchester United, Liverpool, PSG and Real Madrid are just some of the teams to be linked to the striker recently. Osimhen is a regular in the BBC gossip column.
The Blues could be a possible destination, with Graham Potter's side having spent £289m on signings in January alone and still needing a proper striker.
No Chelsea players have hit double figures yet and their only fit striker Pierre-Emerick Aubameyang has scored three goals and was left out of their Champions League squad.
On top of that, Osimhen has continually spoken about his love for a Blues icon in fellow African striker Drogba.
"I took Drogba as my role model while I was growing up and that has been the guiding light," he said in 2021. "Watching him a lot and the kind of mentality he has has really helped me a lot to get to where I am today."
Manchester United, too, are thought to be desperate for a striker – with Cristiano Ronaldo gone, Wout Weghorst only on loan and Anthony Martial having had injury problems.
Osimhen is no one-season wonder
Osimhen's worldwide profile has risen dramatically this season with Napoli flying in Europe and at home – but he has been impressive for several years now.
For one, when Napoli signed him from Lille almost three years ago they paid an initial £65m, a record fee for an African player then.
Osimhen agreed to move to Europe to join German side Wolfsburg in 2016, signing a professional deal the following year after his 18th birthday.
"Arsenal wanted me and I feel honoured to be invited over. But personally I feel Wolfsburg is a ladder for me to reach my professional goals," he told BBC Sport at the time.
After failing to score in 16 games for Wolfsburg he went on trial with several Belgian clubs but Club Bruges and Zulte Waregem did not pick him up, so he went on loan to Charleroi.
He netted 20 goals and was named Charleroi's player of the year. The Belgian club activated a clause to make that deal permanent in May 2019.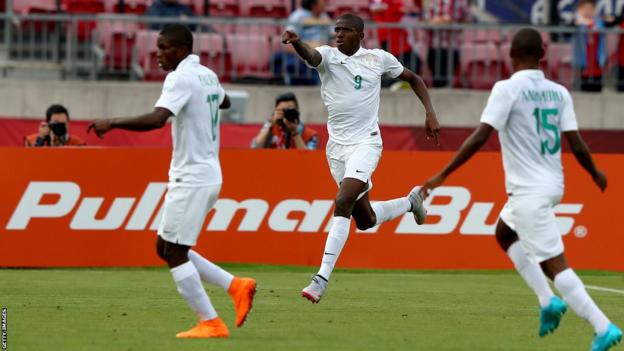 Wolfsburg surely regret that clause because Charleroi paid 3.5m euros for him, and two months later sold him to Lille for 12.5m euros.
He hit 18 goals in his one season in France, including one in the Champions League against Chelsea, and was named Lille's player of the year.
He then made the 70m euros move to Napoli and has scored 49 goals in 89 games for the Italian side.
But one warning to any potential suitor – injuries have followed Osimhen around and he has yet to play 40 games in a season.
He had large spells out injured in both seasons in Germany and the problems have returned in Italy. He has missed 14, nine and four (so far) Serie A games respectively in his three seasons through different injuries.