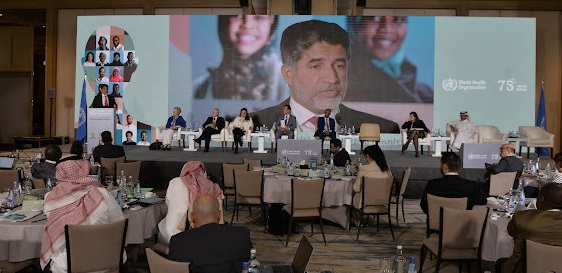 SHARM EL SHEIKH, 18 March 2023 – In the aftermath of the devastating earthquakes in the Syrian Arab Republic and Turkiye more than a month ago and the ongoing war in Ukraine now more than a year old, the WHO Three regional offices will participate in the second high-level conference on refugee and migrant health this week in Sharm el-Sheikh, Egypt, bringing together governments, civil society and health partners. from.
Hosted by WHO's Eastern Mediterranean Regional Office and supported by WHO's Health and Migration Programme, together with WHO's African and European Regions, the purpose of this meeting is to address the strategic priorities agreed at last year's High-Level Meeting. to advance the implementation of Research on the health of refugees and migrants in Turkey through inter-regional cooperation as part of a whole-route approach. We will also reaffirm our commitment to the WHO Global Action Plan on Improving Refugee and Migrant Health and share concrete progress in improving refugee and migrant health in the three regions.
The three WHO regions, spanning a total of 122 countries and territories, have witnessed or been affected by large-scale migration and population movements in recent years due to a variety of factors within and outside the region. This year marks 12 years since the Syrian conflict and one year since the Ukraine conflict. Many other crises are underway, including those caused by climate change. In total, an estimated 171 million refugees and migrants are currently hosted in the countries of the three regions, representing almost two-thirds of the world's refugees and migrants.
"In regions plagued by protracted emergencies, refugees and migrants are a permanent feature of our societies, yet they often remain among the most vulnerable and neglected communities," said WHO East. Dr Ahmed Al-Mandari, Director of the Mediterranean Region, said: "A whole-routes approach to the health of refugees and migrants is essential for comprehensive health systems and a step in the direction of universal health coverage." , an integral part of our regional vision of health for all."
Last month, the WHO's Eastern Mediterranean and European regions jointly faced one of the most devastating natural disasters in years, with more than 26 million people displaced across both Turkey and neighboring Syria. It was affected by a massive earthquake in Turkey that caused damage. Arab Republic. The situation remains dire, displacing millions of people in both countries and increasing pressure on the Syrian Arab Republic's already fragile health system. In Turkey, her 1.7 million Syrian refugees under temporary protection are also affected. In the Syrian Arab Republic, 5.3 million people are reported to be in need of shelter assistance.
"While this week's conference was planned long before this tragic disaster, the situation has led to three regional cooperation on migrant and refugee health that began last year at the first high-level conference in Istanbul. It underscores the urgent need to continue," said Dr Al-Mandari. "We are committed to working together to address the health inequities affecting immigrant and refugee communities across the region."
The Eastern Mediterranean is the WHO region with the highest number of refugees and internally displaced persons (IDPs). More than half of the world's refugees originate from the region, and most of them remain in the region.
Poor living and working conditions, many forms of discrimination, exposure to violence and lack of access to timely and quality health care associated with migration leave many people in vulnerable situations with poor mental health. We continue to face an increased risk of deteriorating health conditions, including: Route, among other factors.
A weakened and overwhelmed health system and a drastic shortage of health workers exacerbate the challenge. Universal health coverage has remained a core focus of WHO's African, Eastern Mediterranean and European Region Member States, but many refugees and migrants have remained marginalized by national and local health strategies. .
"The WHO European Region is currently responding to the earthquake in Turkie, one of its 53 Member States, with more than 8 million documented refugees from Ukraine across Europe, and the impact of World War II. Since then, we have continued to deal with the region's largest displaced population.It is clear that refugees and migrants must be included in emergency response to long-term efforts to achieve universal health coverage. , we need to take a two-pronged approach to improve preparedness and response to health emergencies, while at the same time providing daily comprehensive health services for all," said Hans, WHO Regional Director for Europe. Dr. Henri P. Kluge emphasized.
"Universal health coverage cannot be achieved without considering migrants and refugees. Their health needs must be mainstreamed in all programs. This is an important part of protecting the human rights of migrants. ', said Dr Matshidiso Moeti, WHO Regional Director for Africa.
The conference reflects a commitment to prioritizing refugee and migrant health on the international and regional agenda, underpinned by the principles of solidarity, humanity, human rights and sustainable development.
"WHO's Africa, Europe and Eastern Mediterranean Regions and the participants of this conference will strengthen progress towards achieving universal health coverage and integrate refugees and migrants into national health policies and plans across migration routes and migration routes. We are committed to concerted action to promote inclusion in humanitarian settings," said the meeting's outcome statement.
The statement also said, "Representatives are building partnerships to address some of the most pressing issues facing us collectively, including climate change, the root causes of displacement, and access to health. , also committed to working together to identify opportunities for collaboration across migration pathways: taking care of refugees and illegal immigrants."
The event contributes to discussions co-hosted by the WHO Health and Migration Programme, the International Organization for Migration (IOM), the United Nations High Commissioner for Refugees (UNHCR) and the Government of the Kingdom of Morocco. Later in 2023, during the Third Global Consultation on Refugee and Migrant Health.
The 2nd High-Level Interregional Conference is supported by the UHC Partnership, one of WHO's largest platforms for international cooperation on UHC and primary health care. Belgium, Canada, European Union, Germany, Luxembourg – Aid and Development; Ireland – Irish Aid; France – European Minister;
*For details on the conference results announcement, please contact the following.
Mona Yassin
This email address is being protected from spambots.JavaScript must be enabled to view

Strategic communication of health units
WHO Eastern Mediterranean Regional Office
marie wolf
This email address is being protected from spambots.JavaScript must be enabled to view

communication
WHO Regional Office for Europe
Related Links
https://www.emro.who.int/refugees-migrants-health/index.html#messages